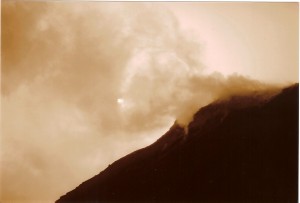 My first real hike was in 2005. Although not really knowing what we were getting ourselves into, we decided to accept the travel agency's suggestion to visit one of Guatemala's most famous active volcanoes – Pacaya. At the time, I knew absolutely nothing about hiking, volcanoes or Guatemala really. I am a lot more aware now – 3 years later of the enormous risk and adventure we embarked on during that one week.
We instantly accepted this exciting prospect. An active volcano!! We imagined a drive up to the peak, with stands selling cute little souvenirs and a volcano in the distance. Little did we know that Pacaya is at an altitude of 2,552 meters. It erupted in 1965 and hasn't stopped ever since. Literally within 10 minutes of our hike, we were short of breath and aware of the reality of how our day would unfold…
Needless to say, our hike continued for approximately 2 or 3 hours (God only knows how long it truly was, I was just trying to figure out how to say "break" in Spanish). Our local tour guide was a truly exceptional man. He was small, calm, and patient. How ironic … here is this little old man, calmy walking along, while us young & fit individuals are literally gasping for air! He informed us that he climbed this volcano usually twice a day!! Wow…
We finally reach the base of the volcano… Yippee!!! Pictures galore were taken with the volcano in the background. We had some unhealthy snacks and felt that our day was great! We were ready to head back…
Obviously you know where this is headed. It turns out that our day was just beginning! We were to climb up the volcano, crossing a fairly narrow path towards Pacaya, with large cliffs reflecting possible death. Signs were warning of danger past this point. But we made it thus far and we were far from disappointed. The view was astonishing and the thought of coming face to face with a volcano was just too tempting. Obviously we were determined to continue.
The last climb was only 150 meters, however it was steep and complex. Due to the nature of the climb (volcanic rock and ashes), it was difficult to take large steps forward. With one step up, you would fall a little behind. The altitude also led to shortness of breath and the fog had thickened quite a bit. There was no path and it became increasingly important to follow the person ahead. We suffered several ordeals throughout (two friends simply couldn't do it and I was trying to catch up with our guide to get help, I lost track of the person ahead of me and could not figure out whether I was going the right way, and I required a break due to shortness of breath literally every 2 minutes). However, I made it to the top and I believe it was one of my biggest life-changing experiences. To be so close to a miracle of nature cannot be described in words. Pictures cannot do it justice. That memory will forever remain in my heart and has deepened my understanding of the vastness of the universe. I will forever remember my first hike – Pacaya – and I look forward to doing it again one day, with my one love – George 🙂